Roy Dupuis
Roy Dupuis is one of the Quebec provience's hottest actors.He was born in Abitibi Quebec, Canada on April 21, 1963. As a child he learned to play the cello, studying for seven years before his move at eleven to Ontario. After seeing the movie Moliere, Roy who was studying physics and science at the time, decided to pursue acting. Roy was accepted into the Canadian National Theatre. This was really a fluke, as Roy took the place of a friend who had decided not to attend the audition. He did use his friend's headshot and application, and as his friend was most definatly not him,the people in charge still let him try out. He trained for four years after winning one of sixteen spots. After graduating, he appeared in many stage productions He has a done numerous plays and movies since that fateful day. Perhaps the Powers That Be knew what he was meant for?
The current "love" of Roy's life is the farmhouse he purchased a few years ago, after an exhaustive six year search for the perfect home.
Roy's home sits on approximately 50 acres of land. It consists of two small farmhouses (one built in the 1840's, the other the 1870's) that have been joined together. The home is all wood with a stone basement. Roy describes the area where he lives as "pretty romantic" and resembling England.
He has been remodeling during his shooting breaks, his newest quest is the perfect bathroom. Future renovations he hopes to do include digging a lake and building a glass house from which he can view the world. He also has a hot tub in his barn so he can steam and then enjoy a cold romp in the snow.
On the weekends, Roy travels back to Montreal, a one hour flight from his work world in Toronto.
Roy, a tree lover, was upset when an ice storm hit the Province of Quebec and destroyed 80% of his forest. Roy's dream is "to create an imprint of myself in my surroundings."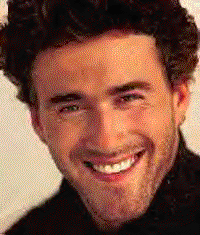 Here is a listing of his works to date.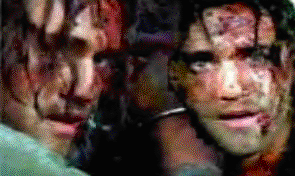 Free Money 1998- He played a character called The Turk. This character was shot after far too little screentime by the Great Marlon Brando.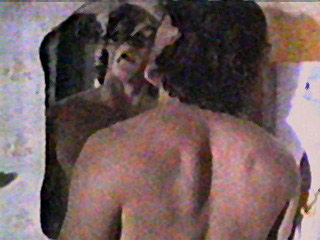 Hemoglobin (Bleeders/ Dark Harbour) 1997. He played John Strauss, also know as the Vampire King.We loved him, but this movie could have done without the little legless freaks. Once again we catch Roy licking a reflective surface.There are two versions of this film, the Canadian release and the U.S. one. The U.S. viewers got shafted by having a large chunck of the wonderful love scene cut out. They tried to make up for it with the loveley cover box of multiple nostriled freaks and a fake blood panel. It failed, we still feel shafted.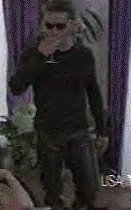 La Femme Nikita (TV Series) 1997 Now in it's fourth season, he plays Michael, the ultimate spy. Undercover work never looked so good!
Aire libre (Out In the Open) 1997 He plays Aimé Bonpland. He also spends most of this film in a loincloth.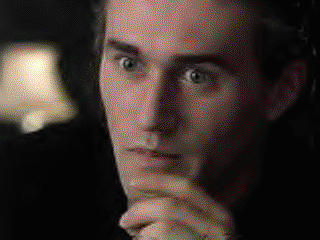 J'en suis! (Heads or Tails) 1997 He plays Dominique Samson a wonderful character that has a unique sexual identity crisis while trying to bail himself out of a finincial mess. Frolicing in the shower and leather pants! Go, Terminator! Go,go!
Homme idéal, L' (The Ideal Man) 1996 He plays a bit part, Christian, the lead females one night stand. He is seen again waiting in line at a sperm bank. Nice (fake)tattoo and good scruffy thang going.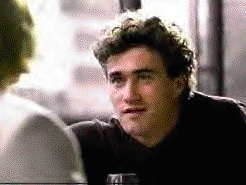 Waiting for Michelangelo 1996 He plays Thomas.On my list of things I must see soon.
Urgence(TV) 1996 In the French Canadian version of ER he plays an insane man. He starts off by trying to blow people up and ends up in the Mental ward.It's kinda sad(in a kleenex way), but all in French, so I'm sure I missed a lot.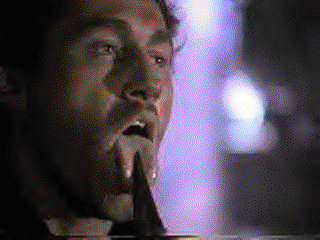 Screamers 1995 He plays Becker, and we see his first taste of a reflective surface. He must have liked the metallic taste , becuase he did it again in Bleeders. He also quotes Shakespeare.He does die more than halfway throug the film, and well, it was the end for me. Was writted by Dan O Bannon, one of the co writers of Bleeders.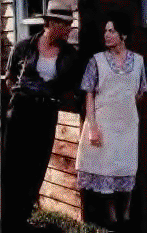 Millon Dollar Babies (Mini Series TV) 1994 He played Oliva Dionne, the father of the Dionne Quads. This is where he met his long time flame, Celine Bonnier, a fellow thespian.
C'était le 12 du 12 et Chili avait les blues (Chili's Blues) 1994 He palys Pierre-Paul. Haven't seen ths one all the way through.
"Blanche" (TV Series) 1993 He reprises his role as Ovila Pronovost
"Scoop II" (TV Series) 1993 He plays a reporter Michel Gagné. Just relased on Video!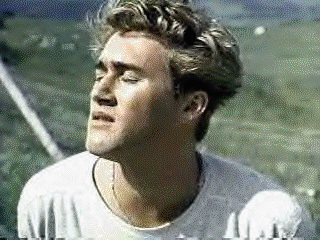 Cap Tourmente 1993 He plays the eye candy Alex O'Neil. Alex is a walking hormone. Roy tangos, plays the cello, frolics in the surf, and sings in this film. It is in French, so, I'm not really sure what happened beyond the fact his character slept with most of the other characters in the film.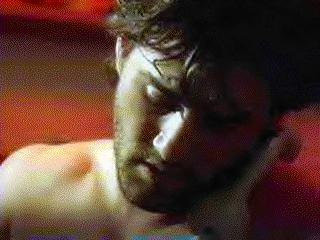 Entangled (Les Veufs) 1993 He played Max, a photographer with a bad American accent. Personally, I'd much rather hear Roy cuss with a French accent.The movie also starred Judd Nelson, so that should give you a clue about the quality of the film.
"Scoop" (TV Series) 1992 He played Michel Gagne, a reporter. Just out on Video!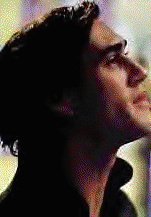 Being at Home with Claude 1992 He plays Yves, a gay prostitute, being interrogated for the murder of his lover. This film is incredible, and not for everyone. Roy considers this his best work. Won a Cannes Film award.
"Les Filles de Caleb" (TV Series) 1990 He plays Ovila Pronovost
Le marche du couple(The Singles Game) 1990 He plays the bartender, and it is a small part in an otherwise unwatchable film.

Jésus de Montréal (Jesus of Montreal) 1989 He has a bit part Marcel Brochu. Check out the mustache!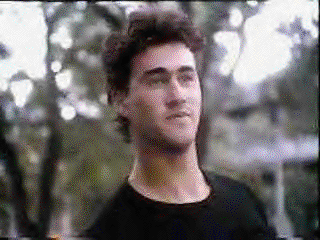 Comment faire l'amour avec un nègre sans se fatiguer (How to Make Love to a Negro Without Getting Tired) 1989 He played Pusher #2. Tells you jow big that role was, no real name.
Dans le ventre du dragon (In the Belly of the Dragon) 1989 He playsJean-Marie. Still haven't scored a copy of this yet.
Le grand jour de Michel Tremblay(The Big Day of Michael Tremblay) 1989 He plays an usher in the wedding from hell. The frightening afro should tell you all you need to know
Sortie 234(Exit 234) 1988 He plays Renaud in this French short that was done by the same people that did Cap Tourmente. More sexual ambiguity and oh-so-pretty pouting in French.
Les enfants de la rue:Danny(The Children of the Street)1987- He plays Ricky. Other than that I know nothing about this film.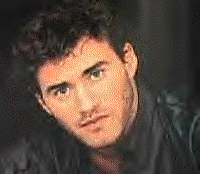 I will add more as I get more info on his works. If I'm missing anything, feel free to email me and let me know what's missing.

Email me at dkraptur@aol.com
The wonderful art and graphics seen here are from">
The background and some of the graphics were provided by