Horror of Dracula (AKA Dracula) (1958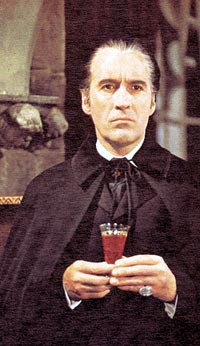 Peter Cushing .... Van Helsing
Christopher Lee .... Count Dracula
Michael Gough .... Arthur Holmwood
Melissa Stribling .... Mina Holmwood
Carol Marsh .... Lucy
Olga Dickie .... Gerda
John Van Eyssen .... Jonathan Harker
Valerie Gaunt .... Vampire Woman
Janina Faye .... Tania
Barbara Archer .... Inga
Charles Lloyd Pack .... Dr. Seward
George Merritt .... Policeman
George Woodbridge .... Landlord
George Benson .... Frontier Official
Miles Malleson .... Undertaker
Geoffrey Bayldon .... Porter
Paul Cole .... Lad
rest of cast listed alphabetically
Stedwell Fulcher .... Man in Coach (cut from US version)
Humphrey Kent .... Fat Merchant (cut from US version)
Guy Mills .... Coach Driver (cut from US version)
Dick Morgan .... Coach Driver's Companion (cut from US version)
John Mossman .... (uncredited)
Judith Nelmes .... Woman in Coach (cut from US version)
William Sherwood (II) .... Priest (cut from US version)
Directed by Terence Fisher
Writing credits
Jimmy Sangster
Bram Stoker (novel)
Produced by
Michael Carreras (executive)
Anthony Hinds
Anthony Nelson Keys (associate)
Original music by
James Bernard
Hammer Film Productions Limited --UK
****
I consider myself something of a connoisseur of Dracula movies. Although I have to admit something of a bias. I was a child of the 70's and Frank Langella has left an undeniable imprint on my brain. He became all that a vampire was supposed to be: highly sexual and extremely yum-worthy. I still remember being very young and having my cousin Alice send me into another room as she and some of my cousins watched this and I sneaked peeks at it that night. A few years later when we got cable, I stayed up and watched it with nearly no sound. My sleeping parents were just down the hall. It gave me shivers and it still does.
A few years later I watched some other versions. Yet they just didn't seem right to me. I won't go into 1992 version with Gary Oldman, since I'm planning on reviewing that later, unless someone wants to do it. The original Dracula seemed downright laughable, although Bela Lugosi is it for many vampire fans.
In college I took a class during summer on film history and we watched 'Nosferatu: A Symphony of Darkness', which is the first version of Dracula, where the producer took the book in 1922 and changed the names and all that, but it still was the same basic story. 'Nosferatu' is not only a classic, but also damn fun to imitate. For months afterwards I would copy the overacting antics of the silent film stars, and I liked seeing a vampire portrayed as a pug-ugly creature. I still love a silent movie. I have both Nosferatu and Metropolis at home in my collection.
However, I guess you can say that Dracula is the king of vampire movies (Although 'Interview with the Vampire' gave it a run for the money). Where would we be without Bram Stoker's tale, no matter how fractured Anyone who's met me and my husband, know how talkative Chris (the hubby) is. He's had 20 minute conversations with perfect strangers about the virtues of Glen Livet Scotch and the merits of wearing the kilt. A few weekends ago, we went to Humperdink's and had dinner. The manager that night was David and somehow he and Chris got in a conversation about vampires. I think David asked what we did and Chris blurted out that I was a writer (who pays bills by taking Technical Support Calls). David asked what I wrote about and after some hemming and hawing on my part, I admitted I wrote about vampires. People usually freeze up at that point, but not David. He was very cool, he sat down with us and the three of us started talking vampire movies and TV. David is in his forties and began talking about Hammer Films and some other movie we had both seen (but the title escapes me now) and I professed my devotion to the 1979 version of Dracula. I also told him about Forever Knight and he now wants to see it. David also jokingly offered the restaurant as a place for my to debut my book, but anyway...
I digress...
David could not stop talking about the mesmerizing Christopher Lee. I remember how people in David's age bracket talked about the film with reverence. I even seem to recall Nigel Bennett (LaCroix) mentioning how much influence Mr. Lee had on him when he portrayed Dracula on the stage and LaCroix on the small screen.
I sat down yesterday after finding a copy at Hollywood Video and watched the movie with Lucius LeChat, destroyer of pens, chaser of straws (our black kitty). He slept throughout most of the film and vocally complained when I took notes and did not give him the attention he needed, but anyway here are my notes.
The movie wasn't true to the book, although technically the play wasn't either, so I'm not going to roll my eyes at that. However, I have to admit I laughed out loud at a lot of this movie. Christopher Lee made a fairly good count and I didn't get too bored because of the changes from the book, kept me fairly interested. I'm a movie nerd, I like to see how different are the versions of the same basic story. That and I like pointing out historical inaccuracies in movies.
The music on the other hand. BUM! BA-BA-BUM! BA-A-A-A-A-BUUUUUM!!!!
The crescendoes couldn't have been much louder. It didn't take long for me to start singing along. Here comes Dracula...BA-BA-BUM!!! There goes Van Helsing...BUM-BUM-BUM-BUUUUM!!! Look out for Lucy....BA-BA-BAAAA!
Overall, I dunno, I hate saying this movie was cheesy. It was highly subjective, I've been spoiled by advanced CGI and movie magic. Hammer Productions gave people in the 50's and 60's a new take on an old story, but I thought it was a tad on the cheddar side. Don't get me wrong, Christopher Lee was fairly sensual, especially in that day and age when the sexual revolution hadn't taken the world by storm yet. Also it was nice to hear Dracula sans the accent. The late Peter Cushing was a vibrant Van Helsing (wowsers...that's kind of cool-sounding), much better I think than Sir Anthony Hopkins.
It'll be a great addition to your MST'ing collection if that's what you're looking for. However, for the time period and production values, it still made a mark in the world and paved the way for the version of Dracula with Frank Langella (hehhehehe) and heck if it helped Nigel Bennett, how bad could it be?
*****
About the Reviewer:
Heather Poinsett-Dunbar is a writer of vampire fiction who has loved vampires and vampire movies since she was about this high. She is in the midst of writing her first vampire novel and is also working on an unofficial guidebook for the Canadian television series, Forever Knight.