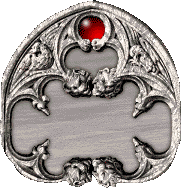 Show your support for Roy/Michael and La Femme Nikita!
In association with Micks Pop's, Michaels Harem, and Roy's Vamp Vixens I have created three designs of shirts for fans of Le Femme Nikita and of our fave characters.
The Pop shirt:
See the end of the page for ordering info

This shirt is 50/50 and will be avilable in Small-3x

The profits of this shirt will go to Carlo Rota's favorite charity Canadian Breast Cancer Research. Breast cancer is a leading killer of women, and in the past few years important research has found new weapons in this life and death battle.

To paypal for this design go here
Michael's Harem shirts:
You don't have to be a Harem member to have Michael's Eyes with you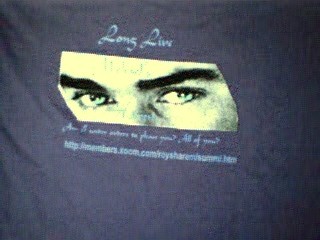 This pic was taken without a flash, and the shirt is much less yellow toned
This shirt is avilable in Small-3x
Profits made on this shirt will go to Roy Dupuis's favorite charity, MIRA, the primere Cnadian trainer and provider of Seeing eye dogs and assistance dogs in Canada. MIRA provides these wonderful, loving dogs to people that need them for no fee.
For this desgin order here
Roy's Vamp Vixen shirts:
For those that like his darker roles. Mirror lickin' good!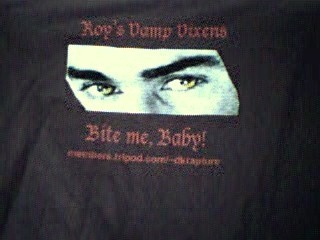 front of shirt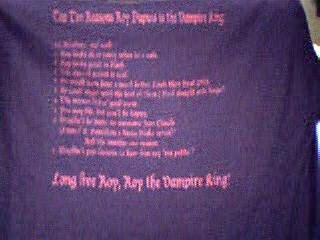 back of shirt. It is the Top Ten Reasons Roy Dupuis is the Vampire King
These shirts are avilable in Small-3X
Profits from this shirt will also go to MIRA.
for this design, order here
Ordering Info: Orders will be taken until I get a 24 order minimium for each design, as of 5/05/01 I still have not had enough orders to send to the printer yet.
All checks and money Orders need to be made out to Lisa Clevenger.We can only take US dollars, please
The price is 25.00 per design,US S&H to the US is included in this price. Canadian Shipping please add 2.00 US dollara to teh above price International shipping may be more, plese email for the exact rate.
Payments need to be sent to: Lady Sukh 3315 Harvard Dr Arlington,TX 76015 USA
any questions? please feel free to email ladysukh@aol.com for more information
to return to the Vamp Vixen homepage