Bleeders/Hemoglobin/Dark Harbour-1997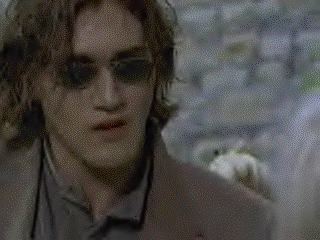 Directed by Peter Svatek
Cast (in credits order)
Rutger Hauer .... Dr. Marlowe
Roy Dupuis .... John Strauss
Jackie Burroughs
Kristin Lehman .... Kathleen
rest of cast listed alphabetically
Michelle Brunet .... Ramona
John Harold Cail .... Ferryman
David Deveau .... Ben
John Dunn-Hill
Spencer Evans
Carmen Ferland .... Mrs. Shea
Gillian Ferrabee .... Eva Van Daam
Pascal Gruselle .... Vermeer
Lisa Bronwyn Moore .... Toot
Joanna Noyes .... Byrde
Leni Parker .... Baby Laura
Felicia Schulman .... Yolanda
Janine Theriault .... Alice
Writing credits
Charles Adair
Dan O'Bannon
Ronald Shusett
Produced by
Julie Allan (II)
Hélène Boulay (line)
John Buchanan (III) (executive)
Ed Elbert (executive)
Gary Howsam (executive)
Pieter Kroonenburg
Original music by
Alan Reeves (I)
Costume Design by
Claire Nadon
Distributors
A-pix Entertainment, Inc.
Fries Film Group
Hellas Video (Greece, video)
I thought it would be best to start out my 'Cheesy Vampire Movie' review with our favorite.
I remember the first time I watched this movie with Sukh. We were at her house, probably taking a well-deserved break from our latest 'Forever Knight' marathon (yes, it's a shameless book plug I know). Anyway, we came across this fine French Canadian production and after five minutes we could tell already what would happen.
It starts out with a woman posing for a portrait. Eva Van Damme is a incestuous narcissist. Oddly enough, unlike most of the royal families of that time, the King wisely decides that incest is a no-no, because it gives us insane rulers like the Mad Queen Juana of Castille and Jay Leno chins. Anywho, Eva picks up her family and moves them to the new world so they can continue having sex with each other in peace. Unfortunately for us, she leaves behind her cousin, Jean Claude, otherwise known as 'The Muscles from Brussels who can't act his way out of a paper bag'.
John Strauss (Roy Dupuis), a mysterious visitor with a mysterious blood disease arrives on the island with his wife, Kathleen (Kristen Lehman) in search of his roots so he can find a cure for his degenerative disease. He and his wife (who will now be referred to as Urs the Nurse -- a virtual vamp king chocolate to those of you who know why we gave Kathleen this nickname) are attempting to discover why John suffers from hunger, blackouts and the occasional dream/flashback sequence.
John and Urs the Nurse meet up with all the oddball characters on the little island. There's the drunk has-been doctor, portrayed by has-been actor Rutger Hauer (what happened to this guy?? He was a wonderful actor in Ladyhawke, etc and now he's stuck playing this doctor and the bad guy in that cheesy Buffy movie (but that's another review). There is also the mute Baby Laura (who finds her tongue near the end of the movie), the town slut, who comes onto poor John Strauss every chance she gets, Byrde Gordon, who owns the town hotel and funeral parlor (It's a one-stop shop), and Byrde's creepy daughter, Alice, who must have spent a great deal of time sniffing the vapors from the formaldehyde.
Okay, now to the nitty-gritty, I love cheesy vampire movies. I'm not exactly sure why yet, but I know I do. If they could have made this just a tad more well vampiric. Maybe it's me, but fangs are one of my turn-on's (along with men in kilts, balding men as well as men with Irish/Scots/Welsh and British accents -- but I'll spare you from that), little legless freaks are not a turn-on for me. Had this been a bit more of a traditional vampire tale, I would have enjoyed it a great deal more, but after all this is a B-movie, it had to have something original in it.
Although there a some good things about this film.
1. The women are in charge of the island. For once, it's nice to see some strong female leadership in the movies.
2. THE sex scene
3. Roy
And that's all I can think of. Were it not for Roy's lovely backside, I would spend a few days after watching this movie, asking myself, Why? Why was this movie made? If anything it gives me hope that perhaps one of my books will be made into a movie. Then again, it may turn out like 'Bleeders' and I would be distraught, but still, I can look past this movie's mistakes and focus on the positive.
Despite the utter horror of this production, the performances by actors were very strong. Although I honestly have to wonder what drug Dan O'Bannon was on when he came up with this script.
I give this movie four wedges out of five (cheese wedges of course!) for cheesiness.
It's a pretty amusing movie, if you can get into it. This one have been a great one for Mike and The Bots at Mystery Science Theater 3000, but you can do just as good of a job Mstie-ing it.
About our reviewer
Heather Poinsett-Dunbar is a writer of vampire fiction who has loved vampires and vampire movies since she was about this high. She is in the midst of writing her first vampire novel and is also working on an unofficial guidebook for the Canadian television series, Forever Knight.
Our newest reviews of the best kind of vampire movies,the cheesy ones!